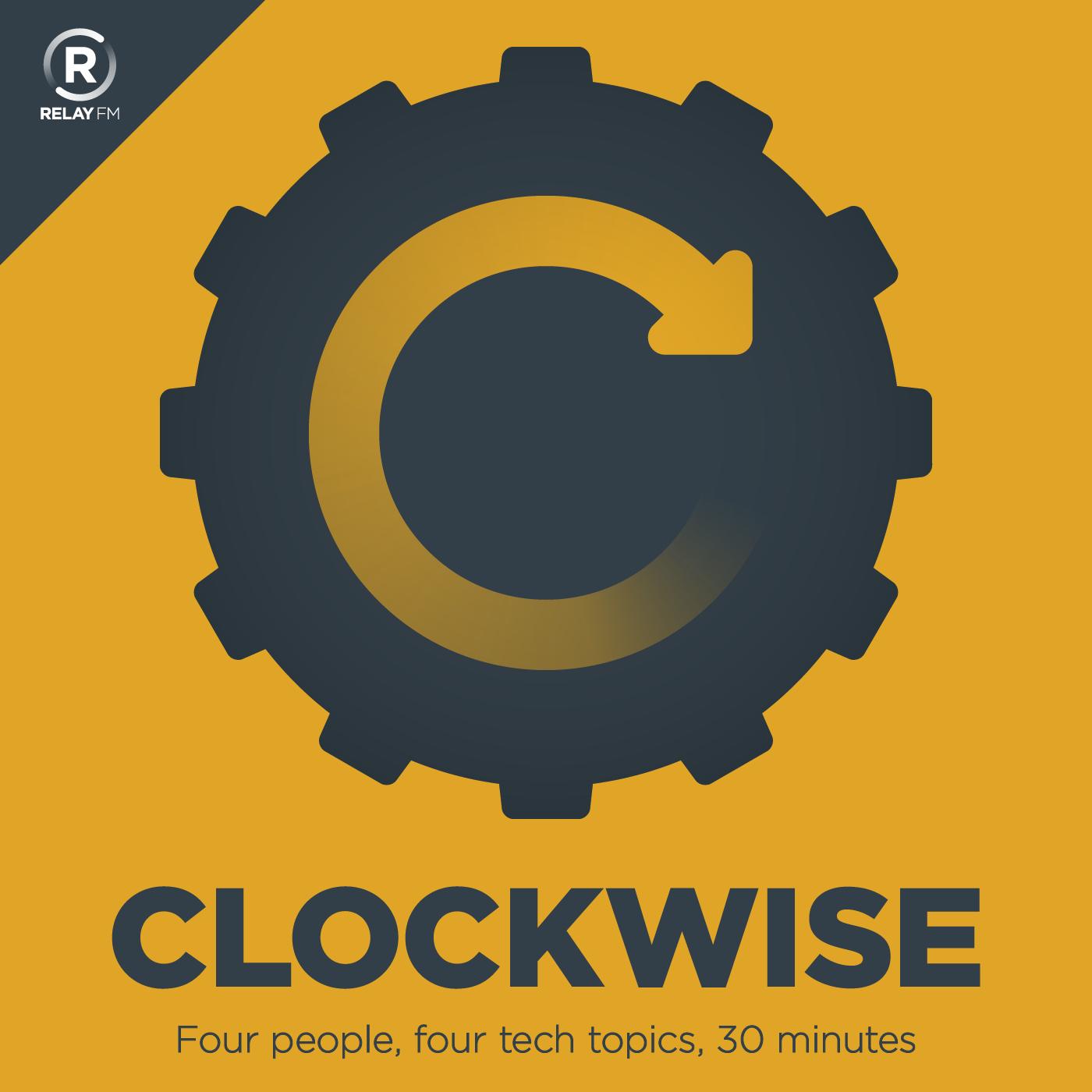 Clockwise is a rapid-fire discussion of current technology issues hosted by Jason Snell and Dan Moren and featuring two special guests each week. Four people, four topics--and because we're always watching the clock, no episode is longer than 30 minutes.
This show broadcasts live. Check the schedule.
May 11th, 2016 · 29 minutes
Oracle versus Google in the rematch nobody wanted to see, strategies for buying a smartphone in a world without phone subsidies, Instagram's icon and our fears of change, and a revisiting of the new Apple TV app platform.
---
May 4th, 2016 · 29 minutes
Potential Apple Music fixes, concerns about iPhone sales, the value of tech unitaskers, and the future of digital cameras.
---
April 27th, 2016 · 29 minutes
The meaning of emoji, nerdy t-shirts, what Apple can learn from Apple Music, and a near-term wish list for Alexa and Siri.
---
April 20th, 2016 · 29 minutes
People who are sad about the MacBook and iPhone SE, imagining an Apple Car, and embracing our cyborg futures.
---
April 13th, 2016 · 29 minutes
Facebook's chat-bot future, popular tech misconceptions, Apple Watch 2's killer features, and the strange case of AirPlay on Android.
---
April 6th, 2016 · 29 minutes
Anticipating a new Kindle, conversations with robots, hanging out at Internet cafés, and living the iPad lifestyle.
---
March 30th, 2016 · 29 minutes
What to do with old technology, the merits of phone cases, VR's impact on society, and our feelings about Microsoft.
---
March 23rd, 2016 · 28 minutes
The FBI backs off, the iPad gets a name change, the iPhone gets a blast from the past, and we pick Apple's greatest flops.
---
March 16th, 2016 · 30 minutes
The appeal of Apple News (or lack thereof), how social media and forensics could have changed the O.J. Simpson trial, our favorite ways to mix devices and the real world, and technology hoarding habits.
---
March 9th, 2016 · 29 minutes
The rise of the AIs, the appeal of premium smartphones, how we're reading books these days, and the death (or not) of email.
---