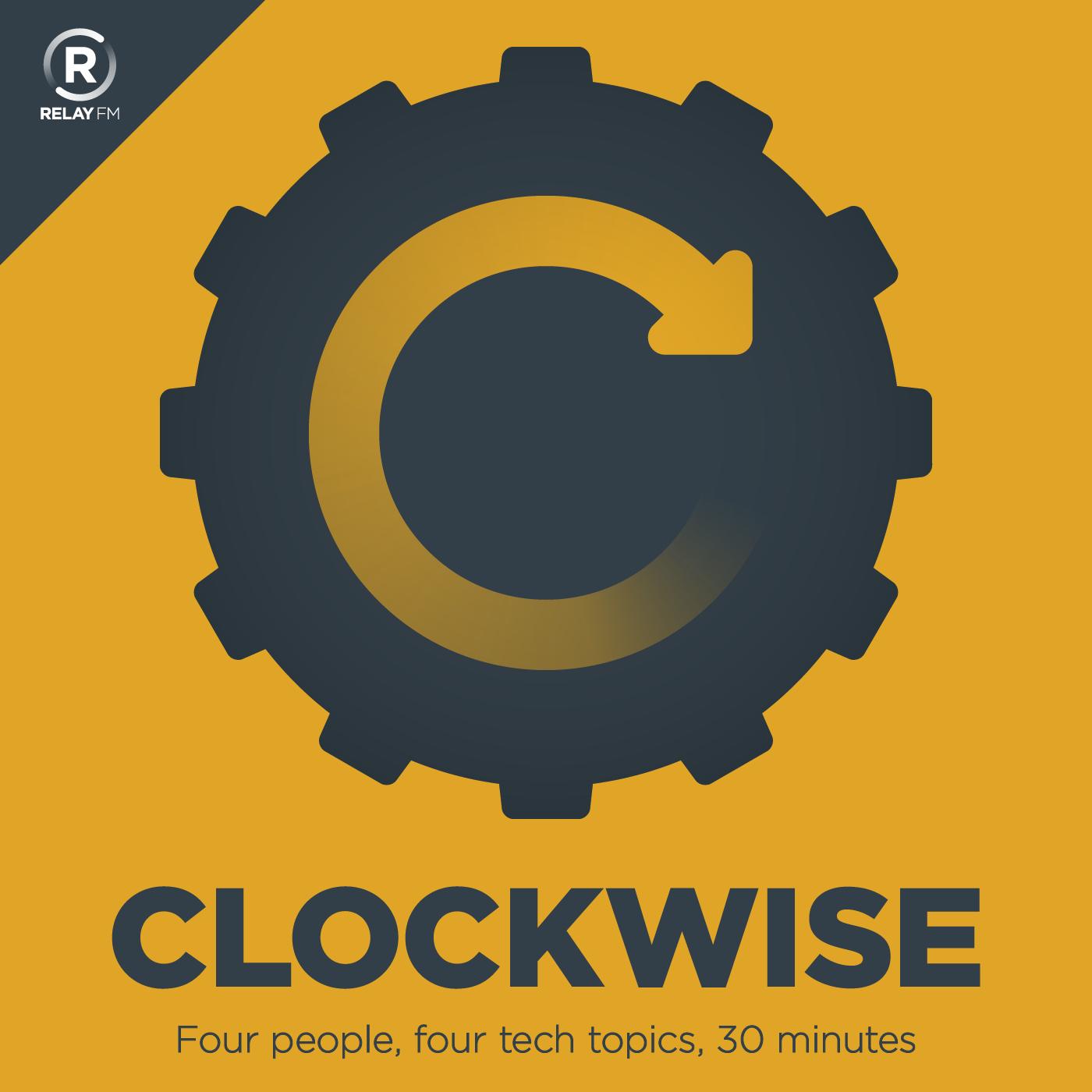 Clockwise is a rapid-fire discussion of current technology issues hosted by Jason Snell and Dan Moren and featuring two special guests each week. Four people, four topics--and because we're always watching the clock, no episode is longer than 30 minutes.
This show broadcasts live. Check the schedule.
November 30th, 2016 · 29 minutes
The holidays (and holiday sales) are in full swing, but do we partake? We also consider detoxing from social media, ponder the contradictions of cord-cutting, and get a visit from a Mysterious Benefactor.
---
November 23rd, 2016 · 29 minutes
Go-to travel gear, Apple's mysterious Mac and Wi-Fi strategies, and the future of Jony Ive.
---
November 16th, 2016 · 29 minutes
This week we offer a panoply of adapters and horror stories about bad password etiquette, then discuss Apple's new self-publishing venture and the utility of pressure-sensitive computer interfaces.
---
November 10th, 2016 · 28 minutes
The future of laptop keyboards, whether VR can be good at anything beyond entertainment, the growing importance of encryption, and a watchOS 3 check-in.
---
November 2nd, 2016 · 29 minutes
Live from Ireland, we discuss Apple and the Mac, our tech passions, keyboards, and VR prospects.
---
October 26th, 2016 · 29 minutes
Finding lost items via technology, Apple's Magic Toolbar, Microsoft's new playbook, and revisiting CarPlay.
---
October 19th, 2016 · 29 minutes
This week we rebrand Samsung, eat meat grown in a lab, watch the Apple Car make a U-turn, and change all our passwords.
---
October 12th, 2016 · 29 minutes
Amazon's Echo music subscription, the Internet of Things gets infected with malware, preferred methods of paying for software, and excitement for virtual and augmented reality.
---
October 5th, 2016 · 29 minutes
Google's new stuff, including Google Home; Apple's new Spoken Editions of print articles; and imagining the Next Big Thing.
---
September 28th, 2016 · 29 minutes
Blocking spam calls, other uses for a Galaxy Note 7, the prospect (again) of Google-built phones, and Blackberry's body hits the floor.
---