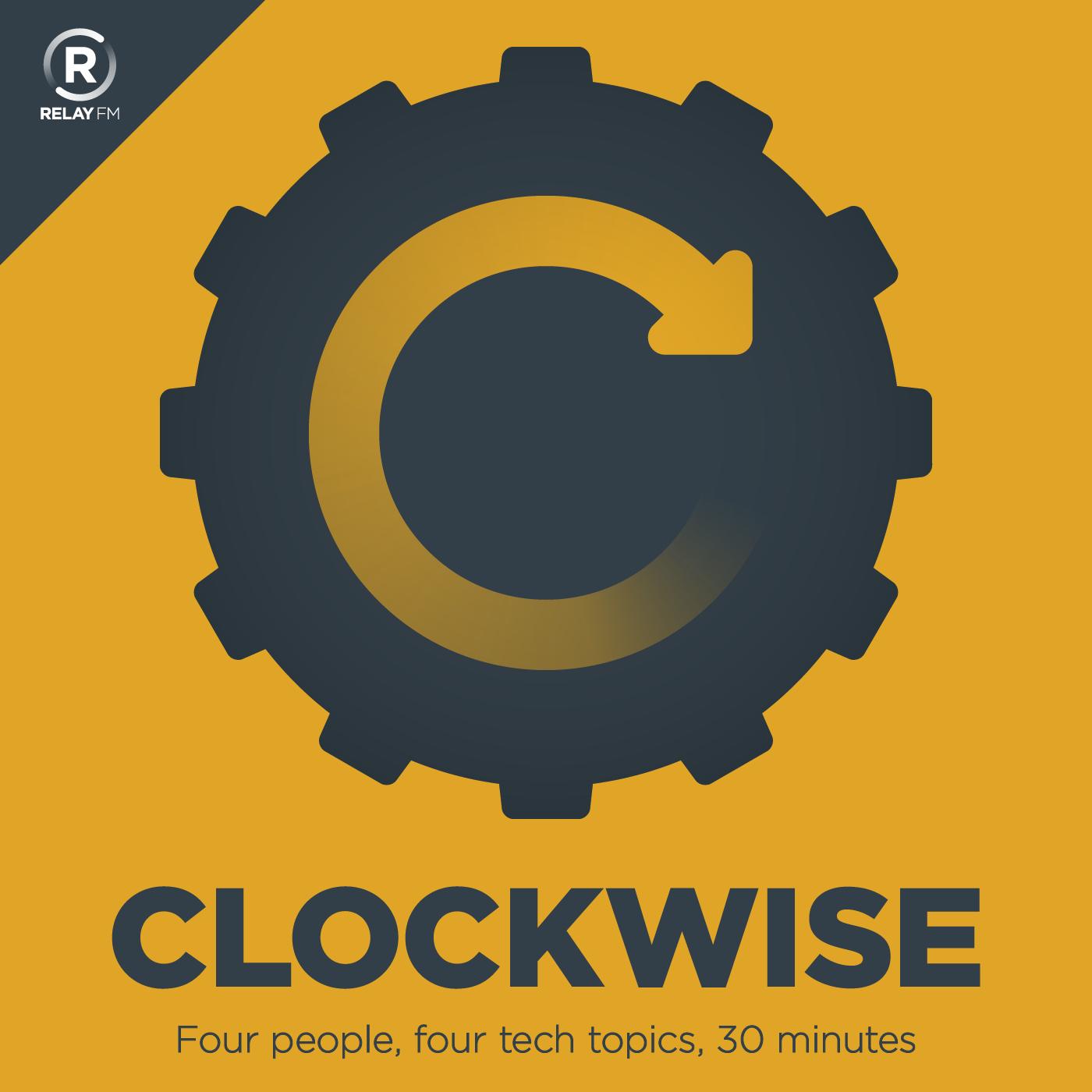 Clockwise is a rapid-fire discussion of current technology issues hosted by Dan Moren and Mikah Sargent and featuring two special guests each week. Four people, four topics--and because we're always watching the clock, no episode is longer than 30 minutes.
This show broadcasts live. Check the schedule.
October 26th, 2016 · 29 minutes
Finding lost items via technology, Apple's Magic Toolbar, Microsoft's new playbook, and revisiting CarPlay.
---
October 19th, 2016 · 29 minutes
This week we rebrand Samsung, eat meat grown in a lab, watch the Apple Car make a U-turn, and change all our passwords.
---
October 12th, 2016 · 29 minutes
Amazon's Echo music subscription, the Internet of Things gets infected with malware, preferred methods of paying for software, and excitement for virtual and augmented reality.
---
October 5th, 2016 · 29 minutes
Google's new stuff, including Google Home; Apple's new Spoken Editions of print articles; and imagining the Next Big Thing.
---
September 28th, 2016 · 29 minutes
Blocking spam calls, other uses for a Galaxy Note 7, the prospect (again) of Google-built phones, and Blackberry's body hits the floor.
---
September 21st, 2016 · 30 minutes
When we trust and distrust the cloud with our files, features future smartphones should strive for, Google's launch of Allo, and unsung features of new smartphone toys.
---
September 14th, 2016 · 29 minutes
iMessage apps, anticipated macOS Sierra features, iPhone pre-orders, and Swift Playgrounds.
---
September 8th, 2016 · 29 minutes
Breaking down Apple's media event, from iPhone to AirPods to dual cameras to Apple Watch Series 2.
---
August 31st, 2016 · 29 minutes
Sonos gets cozy with Amazon Echo, our many terabytes of cloud storage, the promise of AI software, and Aleen searches for a birthday present for her husband.
---
August 24th, 2016 · 29 minutes
The value of music subscriptions, Bloomberg's weird Apple Watch story, old software we still cling to, and our personal beta-testing policies.
---