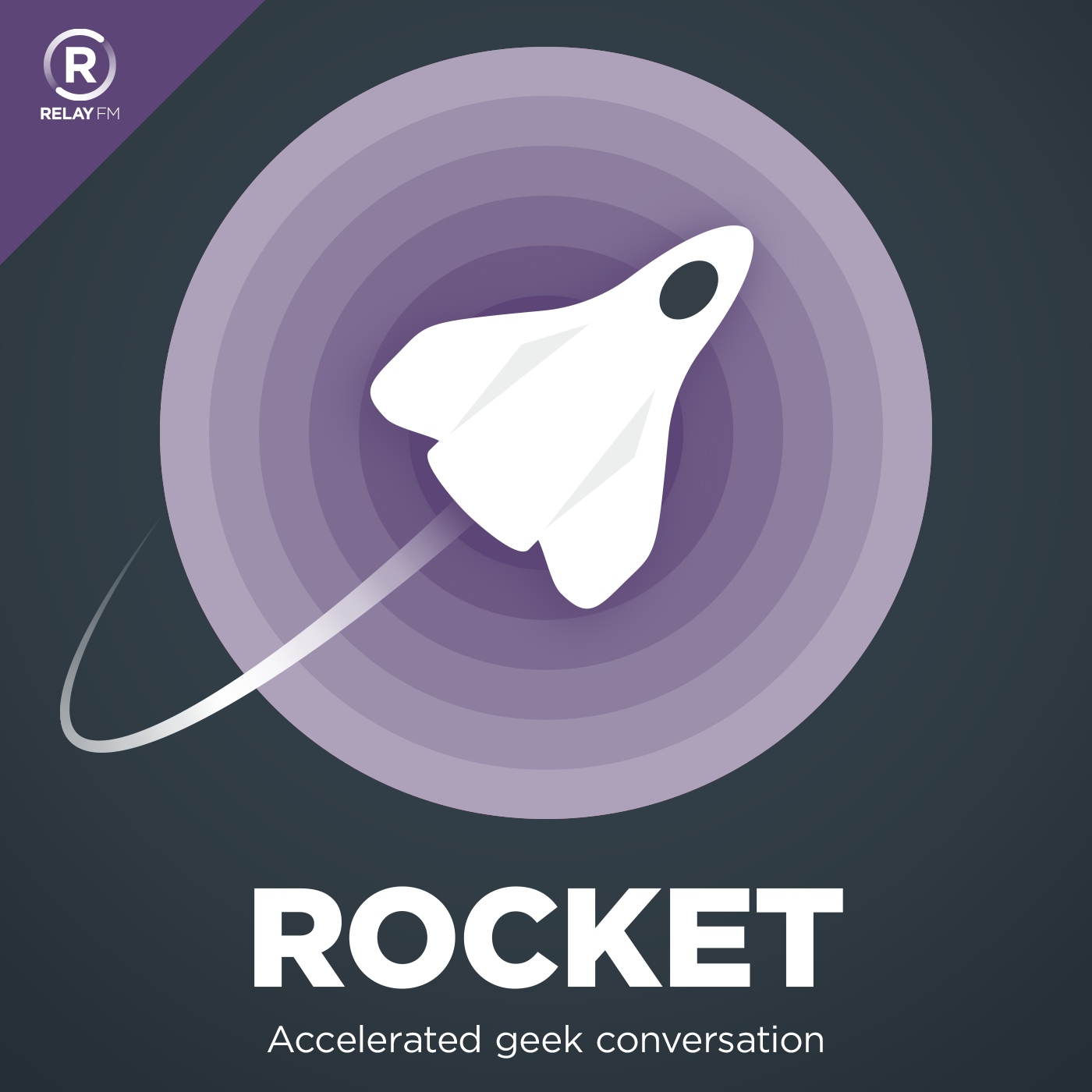 Countdown to excitement! Every week Christina Warren, Brianna Wu and Simone de Rochefort have accelerated geek conversation. Tech, comics, movies, games and books, no galaxy is off limits!
August 25th, 2016 · 83 minutes
Christina, Brianna, and Simone discuss Bloomberg's latest Apple Watch report, and bid goodbye to John Gruber's notes app, Vesper. Then they accidentally devolve into a deep discussion on Daddy and the Discourse.
---
August 18th, 2016 · 67 minutes
Brianna, Christina, and Simone talk about sports coming to your Apple TV via Twitter, and Tim Cook's interview in the Washington Post. Finally, we talk about the new Rogue One trailer and our excitement!
---
August 11th, 2016 · 61 minutes
The Rocket hosts talk about Macbook Pro rumors and some of the exaggerations about the new MBP's abilities. Then they talk about No Man's Sky, and the exaggerations about the game's abilities. And then, they talk about Stranger Things, and the exaggeration of—nevermind, Brianna just kinda didn't dig it as much as everyone else.
---
August 5th, 2016 · 78 minutes
This week on another thrilling episode of Rocket, Brianna, Christina, and Simone talk about the new Xbox One S and whether or not people are ready for it. Then, they fall into phone fatigue and finally wrap things up talking about the new Snapchat, I mean Instagram.
---
July 28th, 2016 · 66 minutes
Christina, Simone, and Brianna keep things apolitical in a discussion about the DNC hacks and the meaning of privacy. Then they segue into game developers' critiques of the Universal Windows Platform and bid goodbye to Marissa Mayer's tenure at Yahoo.
---
July 21st, 2016 · 85 minutes
Christina, Simone, and Brianna talk about the rumored iPhone 7 leaks, and then take a scenic tour of hell discussing Twitter's reaction to Leslie Jones' harassment. The cherry on the sundae is Christina's in-depth recap of the Taylor Swift vs. Kim Kardashian beef, and Simone's reveal that she is, deep-down, a terrible person.
---
July 14th, 2016 · 66 minutes
This week, Simone, Brianna, and Christina talk about the Pokémon craze that is sweeping the world (again), as well as the safety concerns. Then, talk turns to Magic Leap and the promise of augmented reality.
---
July 7th, 2016 · 63 minutes
This week: Tesla, Apple, Snapchat and ... Blackberry. Seriously; that last one isn't a weird typo.
---
June 30th, 2016 · 61 minutes
A very sick Simone de Rochefort powers through with Christina Warren and Brianna Wu, discussing the awesome Ghostbusters VR experience in Times Square, the dangers of technologically sophisticated cars, and finally the thinkpiece debate over Apple killing the headphone jack. And yes, we tried Mac N' Cheetos.
---
June 24th, 2016 · 68 minutes
This week on Rocket, your deeply wounded hosts discuss Apple's decision to kill off the Thunderbolt display, as well as the new upgrades that come with macOS Sierra (Siri on your computer!). Then Brianna preaches the gospel of the HTC Vive, and Christina gets misty-eyed over TomSwift.
---