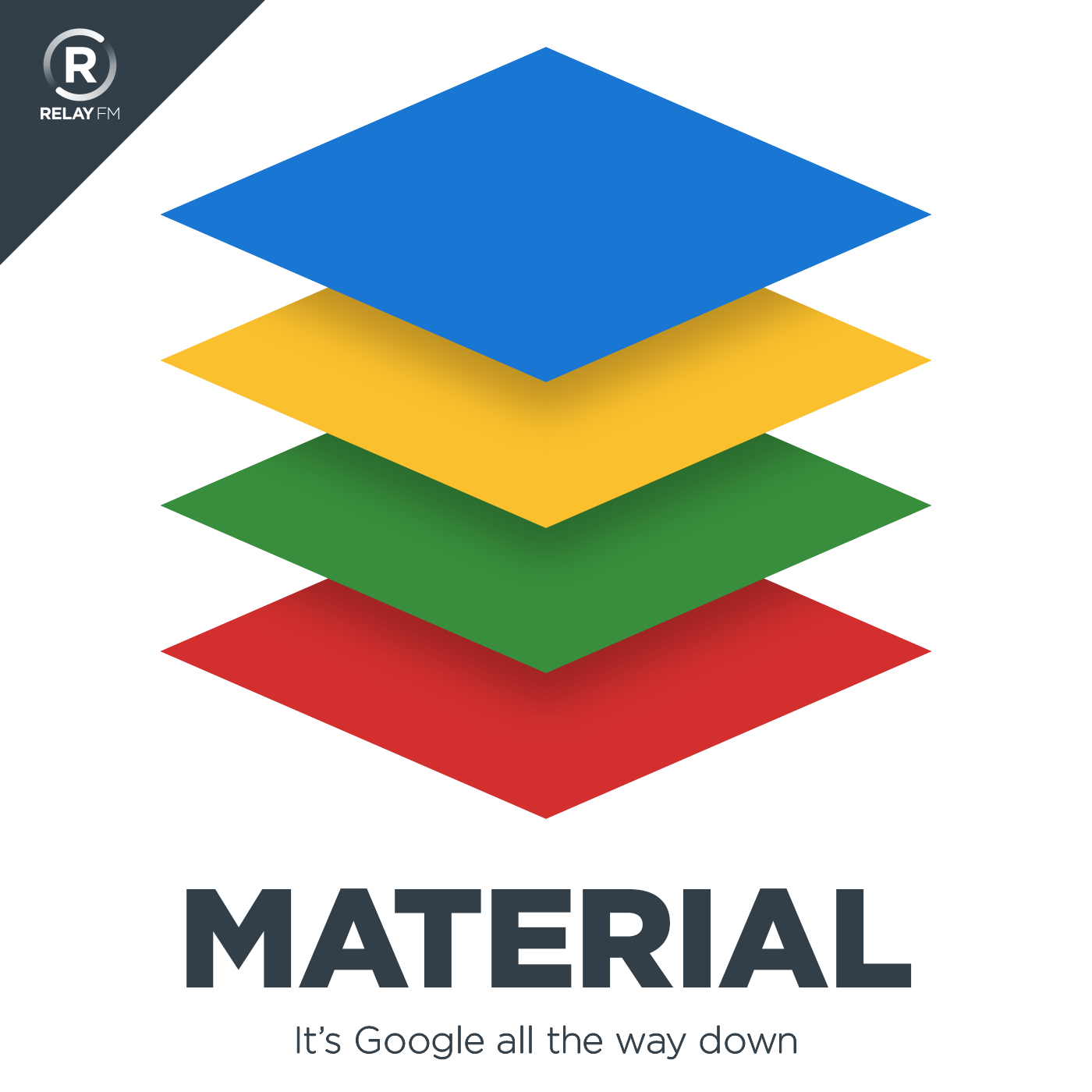 Material is a weekly discussion about the Google and Android universe. Your intrepid hosts try to answer the question, "What holds up the digital world?" The answer, so far, is that it's Google all the way down.
January 14th, 2016 · 71 minutes
You know damn well that our hosts are hip to the young people. Between their baseball caps turned thusly, their hoodies and their hip startups they feels ya. That's why this week we debut a brand new segment 'Andy's Advice To The Youngs'. If you, dear young person, have been wondering why your career is as stagnant as your love life, then you need…
---
January 7th, 2016 · 67 minutes
It's 2016 and your hosts are back and raring to go. Before they deep dive into CES and other Google news though, there's an important question to cover: What exactly did they do over the break and what have they spent their Relay FM millions on? The answers may shock you more than this show's title ever will.
---
December 24th, 2015 · 30 minutes
It's the final Material for the year, so what do our beloved hosts have in store for you this week? Will they perform an Opera xmas miracle and give gifts to each and every one of their listeners? Well I'm not saying they will, but I'm also not saying they won't! Remember to use Apple Pay, and stay past the ending. Ho Ho Ho. Peace out listenerds!
---
December 17th, 2015 · 69 minutes
On today's fateful episode Yasmine loses her voice to foul treachery on the part of another Relay FM podcast. Which one is it? What do unicorns and tacos have to do with it? And is Android so insecure someone will steal this episode before you get to hear it? Only one way to find out!
---
December 10th, 2015 · 54 minutes
Can it be?! Is this the episode that Andy finally returns to the Android fold? Is Yasmine really playing with lego the entire episode? Is Russell obsessed by a router he can't have? Does the team make any terrible puns about the Pixel-C? Only one way to know! Tune in to this weeks episode!
Come for the discussion, stay past the closing credits …
---
December 3rd, 2015 · 37 minutes
On this weeks show we're joined by Matías Duarte, Vice President of Design at Google. We talk about everything from Material Design to how to camouflage LEGO against couches.
Come to hear one of the world's most influential designers speak, stay for the quotes:
"It's no good to pump out gold bricks if you're crushing the souls of tiny unicor…
---
November 26th, 2015 · 68 minutes
The crew is shocked to learn that 22 episodes in they might be becoming friends...and what do all friends do at this point? Answer listener questions of course! And discuss Star Trek and Star Wars! In other news Yasmine buys a car definitely, probably, maybe just to get Android Auto.
Happy Thanksgiving America! This episode is our turkey for y…
---
November 19th, 2015 · 73 minutes
Andy shows off his day and night iPad Pros (you see he only plays offence, never defence). Yasmine yells at Google. Microsoft runs away. Russell doesn't get Thanksgiving, but Google does. Knock knock. Who's there? Drone? Drone who? Drone't you know there's a package here for you!
Thank you, thank you. We'll be here all week folks. Quite literal…
---
November 12th, 2015 · 63 minutes
On this week's show we discover that the rumours of Andy's death have been greatly exaggerated. We meet the cutest little listenerd in the world, debate how to pronounce 'Heuer' and ask how long until the machines can finally read your mail and schedule all your appointments. Meanwhile Google and Apple lose their marbles. Like really lose them. Li…
---
November 5th, 2015 · 73 minutes
On this weeks episode tune in to find out how the Great Nexus Race was won and lost. Did Yasmine's street smarts and USA home ground advantage win her the day, or was Russell able to pull off an upset thanks to the legions of Koalas at his disposal? Did our two fierce competitors kill each other, and if not, how do they feel about their Nexus 6P d…
---