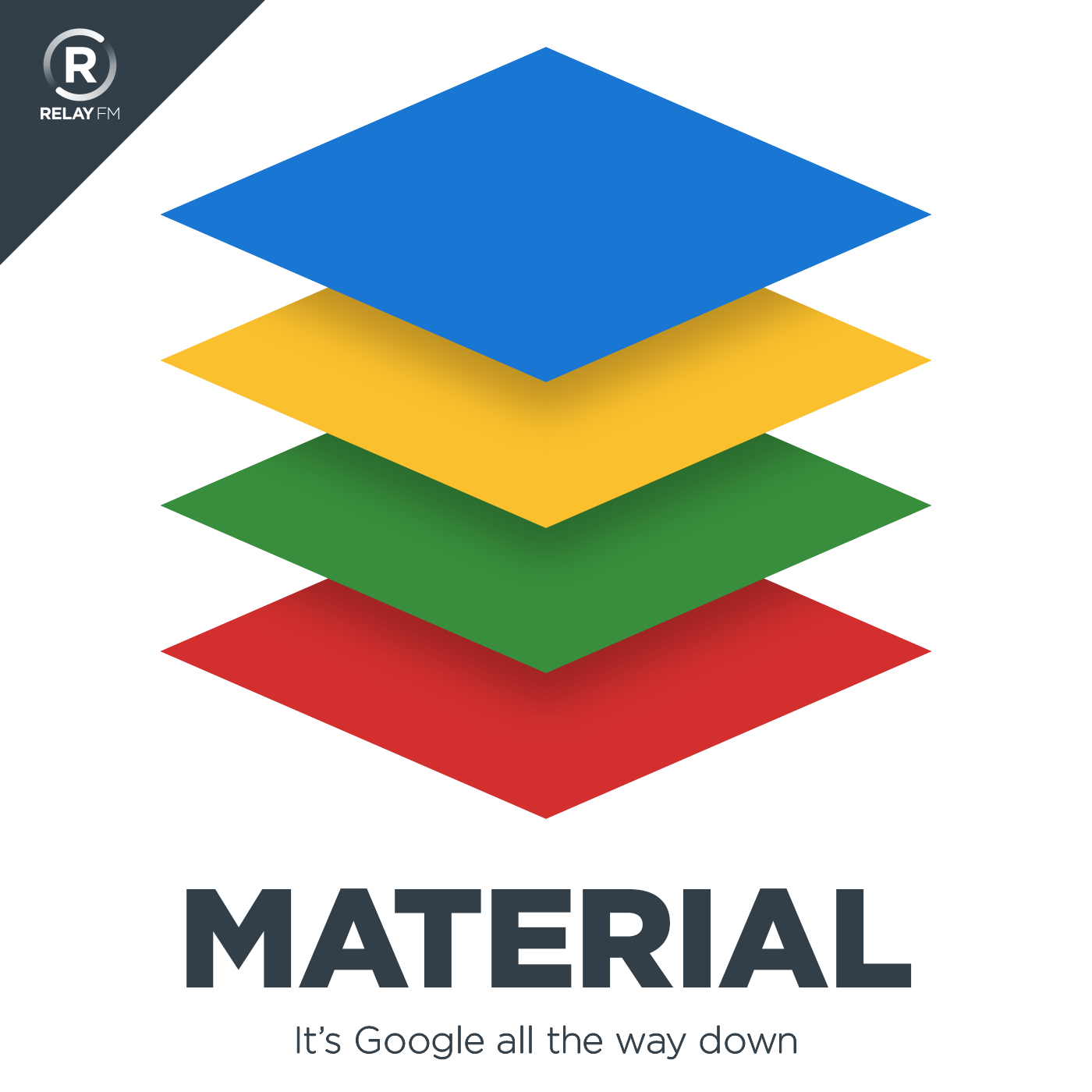 Material is a weekly discussion about the Google and Android universe. Your intrepid hosts try to answer the question, "What holds up the digital world?" The answer, so far, is that it's Google all the way down.
November 12th, 2015 · 63 minutes
On this week's show we discover that the rumours of Andy's death have been greatly exaggerated. We meet the cutest little listenerd in the world, debate how to pronounce 'Heuer' and ask how long until the machines can finally read your mail and schedule all your appointments. Meanwhile Google and Apple lose their marbles. Like really lose them. Li…
---
November 5th, 2015 · 73 minutes
On this weeks episode tune in to find out how the Great Nexus Race was won and lost. Did Yasmine's street smarts and USA home ground advantage win her the day, or was Russell able to pull off an upset thanks to the legions of Koalas at his disposal? Did our two fierce competitors kill each other, and if not, how do they feel about their Nexus 6P d…
---
October 28th, 2015 · 63 minutes
On this weeks fun-filled episode Yasmine tells us all about her new OnHub router. We discuss Google getting into the podcast space and if it means Russell will be sleeping on the street from now on. In more light-hearted news Olive goes to the Google Campus and we get all spooky thanks to a new analytics site from Google.
The most important tak…
---
October 22nd, 2015 · 65 minutes
Yasmine and Russell swoon over Andy's Nexus 5X and 6P as he gives them the run down of his initial impressions of the new phones from Google. Could it be true? Are they both amazing? You'll have to tune in and find out.
In other news Google Maps gets an update, The New York Times adopts Cardboard, and 10 years into the legal battles Google Book…
---
October 15th, 2015 · 90 minutes
Welcome to our first ever movie length episode! Starring Yasmine Evjen as the funny smart one. Russell as the evil guy with a British Accent and Andy Ihnatko as the father figure who helps you learn there's more to life than sitting behind a keyboard.
There's highs. There's lows. There's laughs. There's explosions. There's drama on the high sea…
---
October 8th, 2015 · 57 minutes
Everyone except Russell has cool new stuff to play with. Yasmine and Andy have their new Chromecasts. Andy got to play with all the new toys from Microsoft and Yasmine has Russell's Moto X and Moto 360. Does Russell cry? Does Yasmine make the jump to Project Fi based on listen-nerd feedback? Tune in and find out.
---
October 1st, 2015 · 68 minutes
Join us this week to find out what the team thought of the Google announcement this week. Nexus 6P or 5X? New Chromecasts? What did the Pixel C? And Blackberry finally joins the Dark Side and releases an Android phone!
---
September 24th, 2015 · 73 minutes
This week we delve into the history of the Nexus line of phones, and speculate about the two new ones that are just around the corner. Could this be the year Google finally promotes them proudly and keeps them in stock? Also Andy has his Moto 360 and is not afraid to flaunt it.
---
September 17th, 2015 · 67 minutes
This week Andy has his Moto X and is sounding very smug about it. Russell distracts him with questions while trying to figure out how to swipe it. Speaking of swipe...Android Pay is here and Yasmine braves the crazy world of retail to find out how it works. Our hosts also discuss spiders who eat other spiders, so you know, there's that to look for…
---
September 11th, 2015 · 58 minutes
Have you ever wondered about how Google Photos emerged from Google+? What the goals of the Google Photos team are for the future? What are some core philosophies of the people driving the product? Well you could keep wondering or you could listen to our amazing interview with John Nack (Product Manager, Google Photos) and Aravind Krishnaswamy (Eng…
---