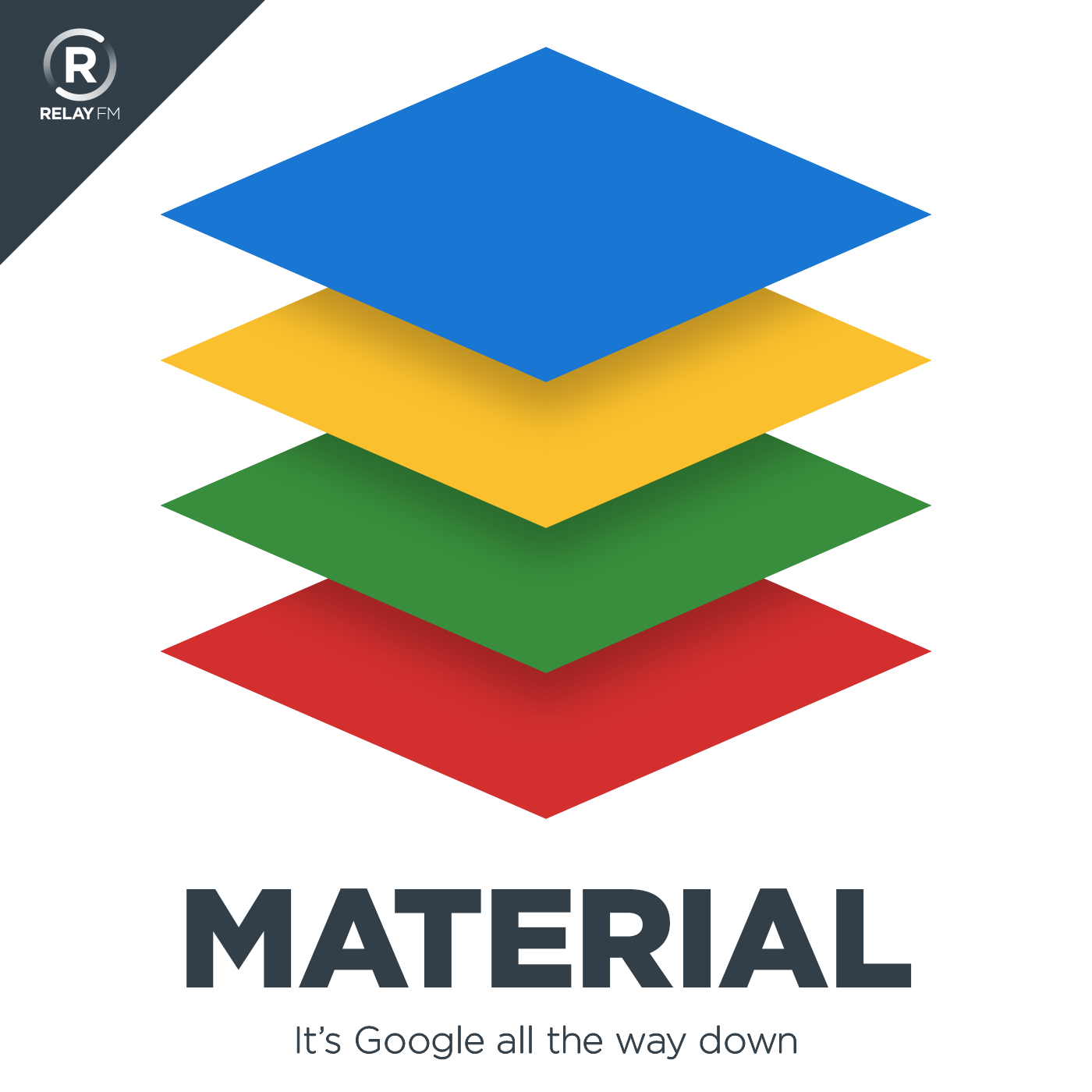 Material is a weekly discussion about the Google and Android universe. Your intrepid hosts try to answer the question, "What holds up the digital world?" The answer, so far, is that it's Google all the way down.
September 8th, 2016 · 64 minutes
Yasmine gives up on mailing our listeners 100s of stickers, and decides to sell them instead. Russell has an explosive story. Andy takes a hit for the team and embarks on a quest to get a Book about Yoga.
It's the most fiery, wild, meteoric, eruptive and fulminating episode yet! (Yes, yes I did buy a thesaurus thanks for noticing. Nice shirt by…
---
September 1st, 2016 · 53 minutes
Russell is replaced by an actual expert. Yasmine gets excited for native night mode. Andy nerds out about more camera stuff. All the best from the world of Google beamed right into your ears. It's the greatest Material yet!
---
August 25th, 2016 · 62 minutes
Russell makes a Note, then makes six more. Yasmine's outruns a haboob even though her Nougat joke making license has expired. Andy turns an odd shade of Fuchsia. We also attempt to pronounce German town names, because at this point, why the heck not?
---
August 18th, 2016 · 68 minutes
Andy falls hard for the Nvidia Shield. Russell pines for his in transit Note 7. Yasmine just wants someone to answer her Duo calls. There's also some uncomfortable revelations about just who is in who's address book.
Material, your source of weekly Google Drama all packed into one neat little bow. A bow that's delivered right to your podcast ap…
---
August 11th, 2016 · 57 minutes
Yasmine finally acknowledges that Russell did one thing right, just the one thing though. Andy tries not to mention the 'O' word, running in five circles around it instead. Russell pulls the old 'you made this thing?', 'I made this thing' trick.
Yes kids, it's yet another fun filled episode of Material Podcast! Your one stop shop that you liste…
---
August 4th, 2016 · 73 minutes
Samsung launches a phone. Russell is in love. Yasmine hates touching whiz. Andy fawns over the specs. Our intrepid team also talks about launchers, family sharing and ventures into some new rumour territory.
---
July 28th, 2016 · 67 minutes
Yasmine goes deep into stealth mode and poses as an iOS Developer. Andy has new phones, again. Russell finally remembers to submit his work to the teacher. In a huge surprise to all of us, it turns out that we are indeed beloved all around the world. We also talk about spam calls, Google Maps and what it means to be truly Motorola-ey.
---
July 21st, 2016 · 55 minutes
Andy has an NVIDIA Shield. Yasmine tries to pronounce Neko Atsume. Russell finally has official Android apps on his Chromebook. Also more Android Nougat talk and the Americans try to get political.
---
July 14th, 2016 · 65 minutes
Yasmine discovers a fan in Minnesota. Andy gets himself a bargain. Russell is angry about privacy myths. Also: do you dare to believe you will wear Google made Android Wear on your wrist and not your hair? Plus Pokemon. Of course. Deal with it.
---
July 7th, 2016 · 61 minutes
Apparently America Brexited a while back and they are still celebrating, typical Yanks, am I right Europeans? Sorry America, I get it, you're happy and you get a day off. U-S-A, U-S-A, U-S-A...am I doing it right?
So today we answer your listener questions, because we know you'd never quit us. No really...you wouldn't, right? Good...not that we…
---