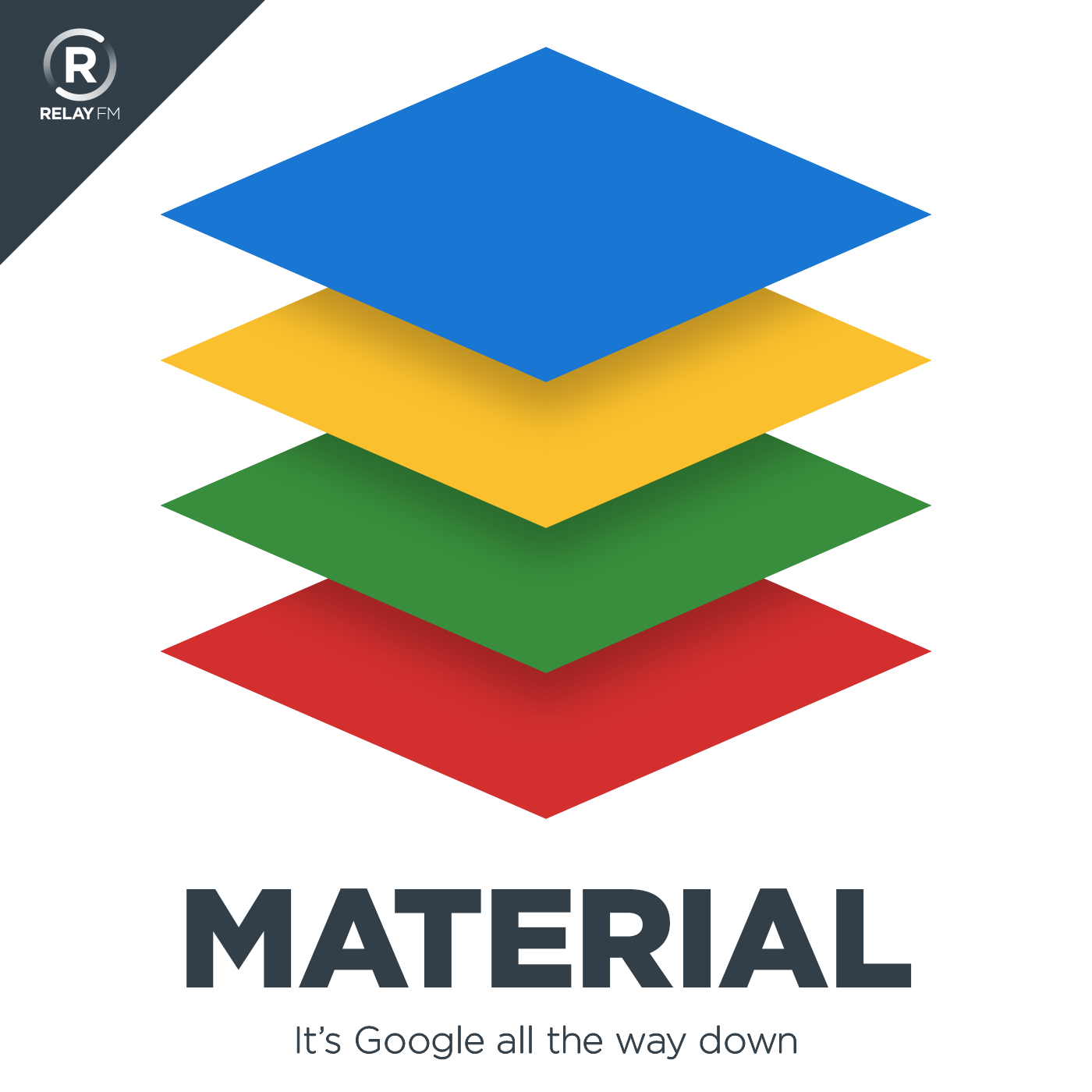 Material is a weekly discussion about the Google and Android universe. Your intrepid hosts try to answer the question, "What holds up the digital world?" The answer, so far, is that it's Google all the way down.
October 13th, 2016 · 65 minutes
The whole of Australia is yet again angry with Russell. Andy tries to deflect them with Koala Facts. Yasmine thinks Russell should go down for his crimes. The Material team hold an intervention with a Galaxy Note 7 user.
This week we pour one out for the Note 7, a phone who's star just burnt too bright. The modern day Icarus, whose goals were t…
---
October 6th, 2016 · 105 minutes
You might be asking yourself...how did I get into this situation? Well you're not alone! Our intrepid hosts asks themselves the very same questions as they record this episode LIVE. If you missed it, or you prefer the audio version then this is the show for you. If you had no idea we did a video, there's a link for you in the show notes :)
In t…
---
September 29th, 2016 · 82 minutes
Russell comes to the end of his Noteworthy journey. Yasmine shines a bright light on the Google Assistant while it sweats uncomfortably. Andy dreams big about October 4th. That's right it's been a HUGE week since our last episode aired filled with product releases and rumours.
We also have some cool news to share: Our next episode will be aired…
---
September 22nd, 2016 · 67 minutes
Russell learns about just how delicious Astronaut Ice Cream is while he waits for his new Note 7 to arrive. Yasmine gets angry at the Google Keyboard. Andy makes a shocking discovery inside Youtube. Of course we also discuss the upcoming October 4th Google Event. GET HYPE PEOPLES!
---
September 15th, 2016 · 64 minutes
Andy is upset about some kind of cooking program? Yasmine is letting her Electrons Slack off. Russell becomes an explosives expert. Former Material Hosts are launched to stratospheric heights. Finally Google's CFO is bad ass. BAD. ASS.
Also drone delivered burritos being attacked by hawks. No Really.
---
September 8th, 2016 · 64 minutes
Yasmine gives up on mailing our listeners 100s of stickers, and decides to sell them instead. Russell has an explosive story. Andy takes a hit for the team and embarks on a quest to get a Book about Yoga.
It's the most fiery, wild, meteoric, eruptive and fulminating episode yet! (Yes, yes I did buy a thesaurus thanks for noticing. Nice shirt by…
---
September 1st, 2016 · 53 minutes
Russell is replaced by an actual expert. Yasmine gets excited for native night mode. Andy nerds out about more camera stuff. All the best from the world of Google beamed right into your ears. It's the greatest Material yet!
---
August 25th, 2016 · 62 minutes
Russell makes a Note, then makes six more. Yasmine's outruns a haboob even though her Nougat joke making license has expired. Andy turns an odd shade of Fuchsia. We also attempt to pronounce German town names, because at this point, why the heck not?
---
August 18th, 2016 · 68 minutes
Andy falls hard for the Nvidia Shield. Russell pines for his in transit Note 7. Yasmine just wants someone to answer her Duo calls. There's also some uncomfortable revelations about just who is in who's address book.
Material, your source of weekly Google Drama all packed into one neat little bow. A bow that's delivered right to your podcast ap…
---
August 11th, 2016 · 57 minutes
Yasmine finally acknowledges that Russell did one thing right, just the one thing though. Andy tries not to mention the 'O' word, running in five circles around it instead. Russell pulls the old 'you made this thing?', 'I made this thing' trick.
Yes kids, it's yet another fun filled episode of Material Podcast! Your one stop shop that you liste…
---