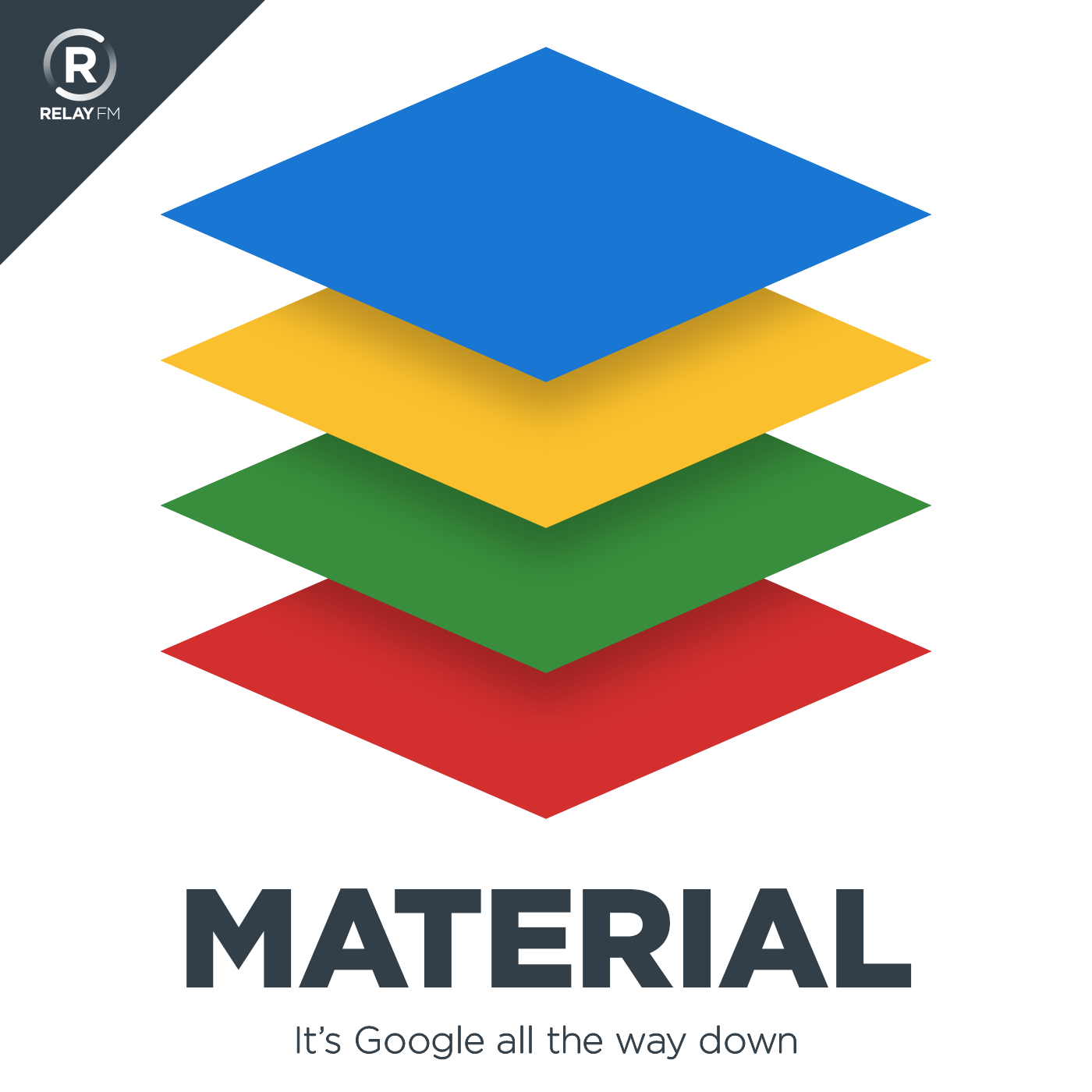 Material is a weekly discussion about the Google and Android universe. Your intrepid hosts try to answer the question, "What holds up the digital world?" The answer, so far, is that it's Google all the way down.
June 16th, 2016 · 65 minutes
OK Google, what's that in my viewfinder? Google Photos? Oh no, that's the new Apple Photo Memories. Yes, we talk DUB DUB. Yes, we're an Android show. Make sure you stock up on some Vitamin D, there is some shade being thrown.
---
June 9th, 2016 · 78 minutes
Can we say that on the air? Live, raw, and uncut. For all those listenerds who have been begging us to do a video episode, this one is for you! Recorded using Hangouts on Air and streamed live to YouTube this was an episode not to miss.
That said if you did miss it, we got you covered, hit the YouTube link below!
---
June 2nd, 2016 · 61 minutes
Andy's Analogy Death Toll climbs to 51. Russell gives Spaces a meh. Yasmine literally walks out on the show. Plus some AI and Google Home goodness to warm your cold, dark hearts.
Yes yes, we know, show 49 is about as exciting as a new Hangouts update. But, dear listener, are you ready for episode 50, OUR LIVE VIDEO EXTRAVAGANZA?! We sure as hec…
---
May 30th, 2016 · 36 minutes
Today dear listener we go all Santa Clause on your heinies and bring you a special post I/O episode featuring some interviews we recorded live from the event. Whether you're interested in the dulcet tones of Nick Butcher, or you just want to rock out with a cube painting robot, we have you covered in this weeks special episode.
Normal services …
---
May 26th, 2016 · 74 minutes
Google is hurtling head first into the world of VR. But behind the news, what's actually going on? To find out the Material Crew are joined by two Senior Designers and Prototypers from the Google VR Daydream team. Where did this interesting new project come from? Where is it going? And just what interesting things have Manuel and Robbie tried so f…
---
May 19th, 2016 · 64 minutes
Russell and Yasmine brave the heat at Google I/O to bring you the latest news from the ground. Meanwhile Andy (to ensure no one can take out the entire Material Crew in one go) remains steadfastly at home in air conditioned comfort. Google Assistant, Google Home, Allo, Duo, VR and so much more on this weeks Material...recorded FROM THE GOOGLE PLEX…
---
May 12th, 2016 · 56 minutes
Russell gives listenerds the shirt off his back. Yasmine buys a sticker cannon. Andy auditions for Google's new Romance AI 3000 position. Also not sure if you noticed, but I/O is coming, unlike winter, which takes foreeeevveeeerrrrr. SO GET HYPE PEOPLE OF GOOGLE LAND, IT'S HAPPENING!
Yeah we also mention nutties, AGAIN. #dealwithit #sorrynotsor…
---
May 5th, 2016 · 52 minutes
Andy shoots up a wedding while wearing a spy cam. Yasmine hunts for her lost nutties. It begins to dawn on Russell that he's now the least professional host on this show.
On the Google side of the fence: onHub updates, Camera updates, Keyboard updates, even your ex now updates. Too soon? Sorry.
---
April 28th, 2016 · 68 minutes
Andy has a secret package he opens live on air. Yasmine tips her hat to two podcasting greats. Russell makes a horrible joke at the end of the show. That's right kids, it's this weeks episode of your 2nd favourite podcast, Material!
Of course there's Google I/O news, the ending of an 11 year court case (that's almost as old as some of you!) and…
---
April 21st, 2016 · 68 minutes
Material shirts from material purchased with your material start to materialise onto people's chests. Andy dives deeper into Airplay. Russell moves into a new paper based eco-friendly home. Yasmine wants to watch the world burn. Tony Fadell's chickens come home to Nest which is making some people at Alphabet feel Vic. Also Google Play Podcasts, li…
---