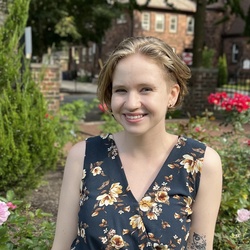 Quinn is a freelance podcast editor from Downeast Maine, currently living in Chicago. She is also the host of Corner of the Sky on The Incomparable and produced the narrative series Setting the Stage about community theater in rural America. There is roughly a 77% chance she is talking about podcasts or musicals at this very moment.
---
Shows
Quinn and Betty are two non-professional art enthusiasts who love art and want to learn more about it. They take turns researching interesting parts of art history and culture, and sharing those stories with each other.
Retired Shows
A show about news, politics and pop culture. Every episode, your hosts talk about their favorite stories of the week … and probably at least one random current event that has nothing to do with anything.
Guest Appearances