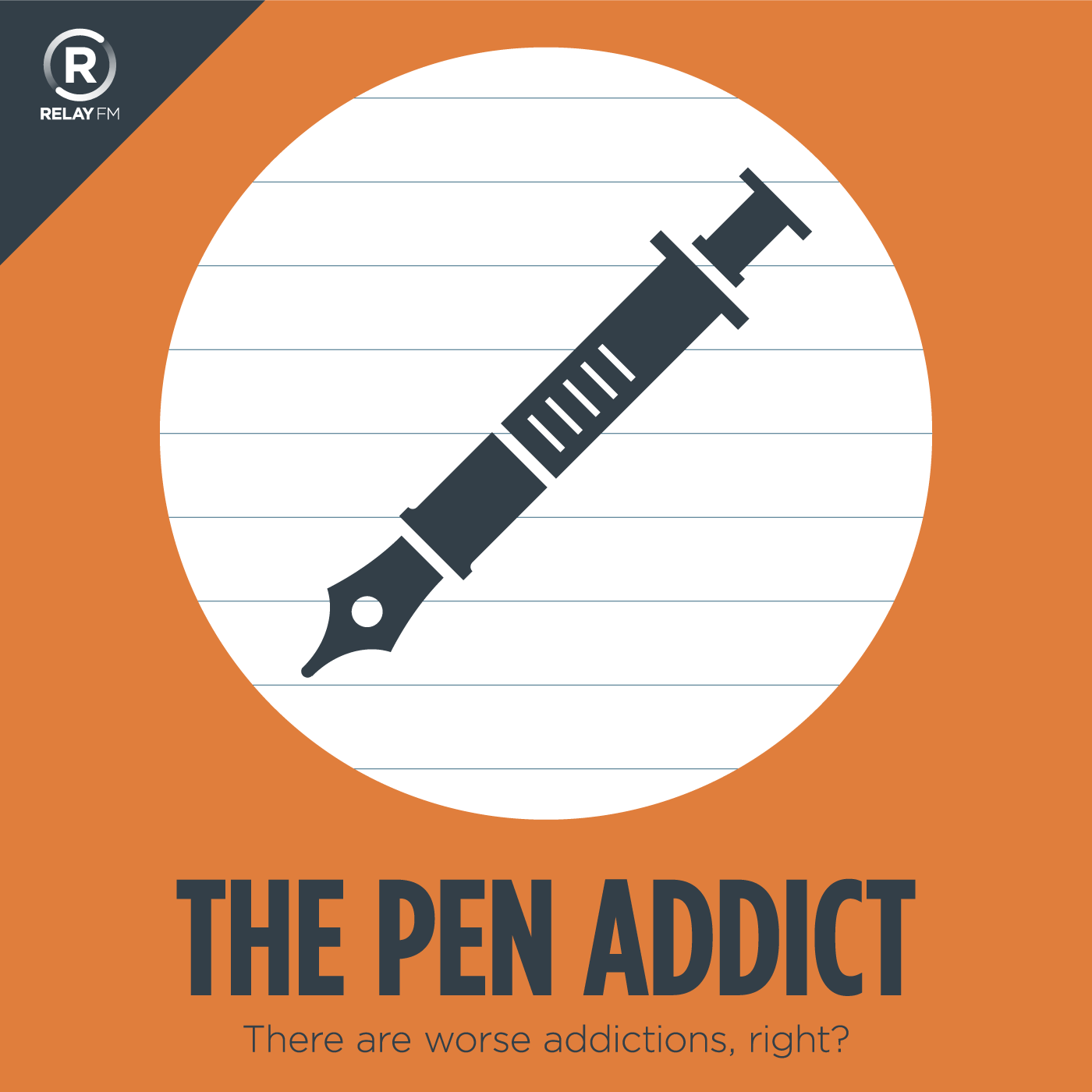 The Pen Addict is a weekly fix for all things stationery. Pens, pencils, paper, ink – you name it, and Brad Dowdy and Myke Hurley are into it. Join as they geek out over the analog tools they love so dearly.
This show broadcasts live. Check the schedule.
March 29th, 2017 · 84 minutes
Brad and Myke are joined by guest emeritus Ana Reinert to commiserate over 250 episodes worth of podcasts. We also talk about Ana's latest project and what to expect at the upcoming Atlanta Pen Show.
---
March 22nd, 2017 · 69 minutes
Brad is back from the Arkansas Pen Show with tales to tell. It was a different experience, and perfect in all the right way. Plus, he bought stuff.
---
March 15th, 2017 · 78 minutes
Brad and Myke are joined this week by Matt Armstrong of The Pen Habit. In a long overdue conversation we discuss Matt's start with fountain pens, producing wonderful video content, and some of his favorite pens and inks.
---
March 8th, 2017 · 68 minutes
Brad's interview with Aurora was posted this week and we discuss the details, as well as the million dollar pen floating around the hotel where the interview took place. We also cover an excellent new machined pen, pencil box subscriptions, and a big batch of reader mail.
---
March 1st, 2017 · 76 minutes
The Field Notes Utility edition is in hand, and the internet has things to say. Brad reviews his copies, and also discusses vintage Kaweco pens, Lamy weirdness, and Staedtler Styli.
---
February 22nd, 2017 · 64 minutes
Brad is back from the Los Angeles Pen Show with wonderful tales and an epic haul. The Field Notes Utility Edition dropped during the live recording as well, so you can hear our first reactions. Plus, the coloring book to end all coloring books.
---
February 15th, 2017 · 74 minutes
You can pry our Safari's from our cold dead hands! Brad and Myke double down on their love for one of Lamy's flagship pens. But did you notice one in their bag dumps? Interesting...
---
February 8th, 2017 · 65 minutes
Can you believe it has been five years of a podcast about pens? Neither can Brad and Myke because it took a listener to remind them right before the show. That's ok, because they covered all of the high points any five year anniversary show should!
---
February 1st, 2017 · 81 minutes
Our Kickstarter project launched and funded since last episode, so we go in to the show and announce our stretch goal! It has a little something to do with our favorite pocket notebook, so you will want to listen in and hear all of the details.
---
January 25th, 2017 · 77 minutes
We like it when companies give us topics to talk about, and boy are we covered today! The Baron Fig Askew takes center stage, and Brad and Myke are on different sides of the ledger. Who loves it? Who hates it? Tune in to find out!
---