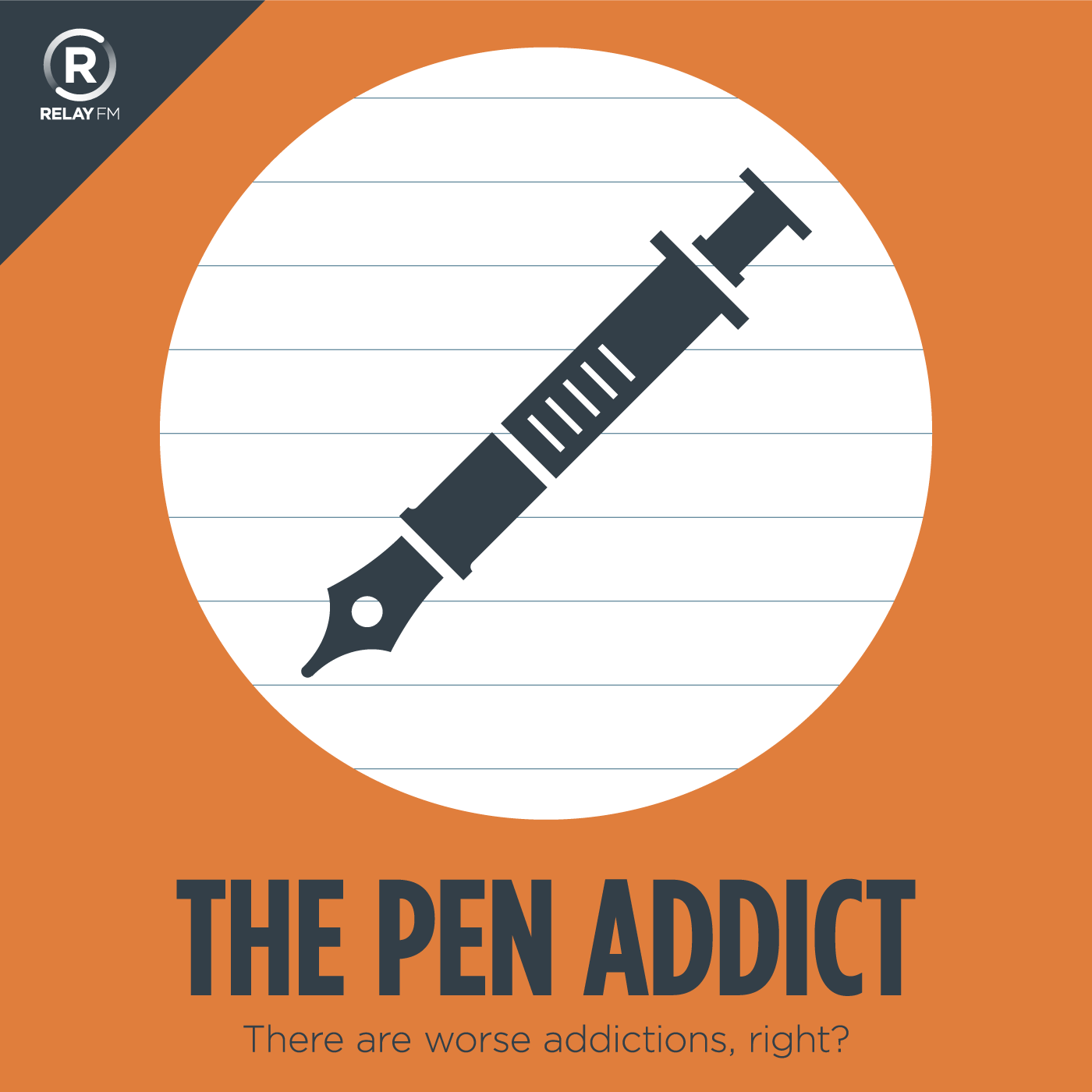 The Pen Addict is a weekly fix for all things stationery. Pens, pencils, paper, ink – you name it, and Brad Dowdy and Myke Hurley are into it. Join as they geek out over the analog tools they love so dearly.
This show broadcasts live. Check the schedule.
August 10th, 2016 · 59 minutes
Brad is back from DC and shares all the tales of wonder from the biggest pen show on the planet. He also bought stuff.
---
August 3rd, 2016 · 75 minutes
We got a little Cronzy this week on the podcast, and just just because our good friend Ana Reinert joins us once again. We talk about the resurrection of Omas, too many Field Notes, and the upcoming Washington DC Pen Show.
---
July 27th, 2016 · 67 minutes
We hit it this week gang - maximum peak weirdness! Pen shooting, pencils, and bamboo are just the appetizers of the main course of this episode.
---
July 20th, 2016 · 69 minutes
Brad and Myke hit on everything this week, from pencils and sharpeners, multi-cartridge fountain pens, and how Fuyu-gaki is the worst orange. They also have the definitive answer for the Trump pen.
---
July 13th, 2016 · 64 minutes
Ballpoint, gel, and rollerball pens make up the majority of the pens in use so Brad and Myke revisit some of the best of each style. We also get corrected on our pronunciation, and talk about coffee shops in a cabin in the woods.
---
July 6th, 2016 · 47 minutes
It was a big week for pen news, including two new releases from Lamy, a big one from Montblanc, and a tease as usual from TWSBI. Brad and Myke also share their current writing setups.
---
June 29th, 2016 · 71 minutes
Ed Jelley joins Brad and Myke this week to discuss blogging and burnout. It's a wide ranging conversation and well worth your listen. We also follow up on the Field Notes Byline edition and the new J. Herbin 1670 ink.
---
June 22nd, 2016 · 68 minutes
Myke is back from WWDC and he got gifts! We talk about the goods that were delivered, and especially the Nakaya he got to test out. We also dig into the new Field Notes Byline edition, and we now have an Akkerman soundboard!
---
June 15th, 2016 · 55 minutes
Brad and Myke go behind the scenes in this episode and talk about about stress and burnout as it relates to blogging, podcasting, and keeping a good work/life balance. We also share details of an awesome new podcast from one of our friends, Nock news, and when there will be a Top 5 Pens update.
---
June 8th, 2016 · 51 minutes
The British Invasion continues this week on The Pen Addict as Brad and Myke are joined by Adam Blaine from The Desk of Adam. We discuss his award-winning blog, amazing photography, and how many Nerds one can stuff into your mouth.
---