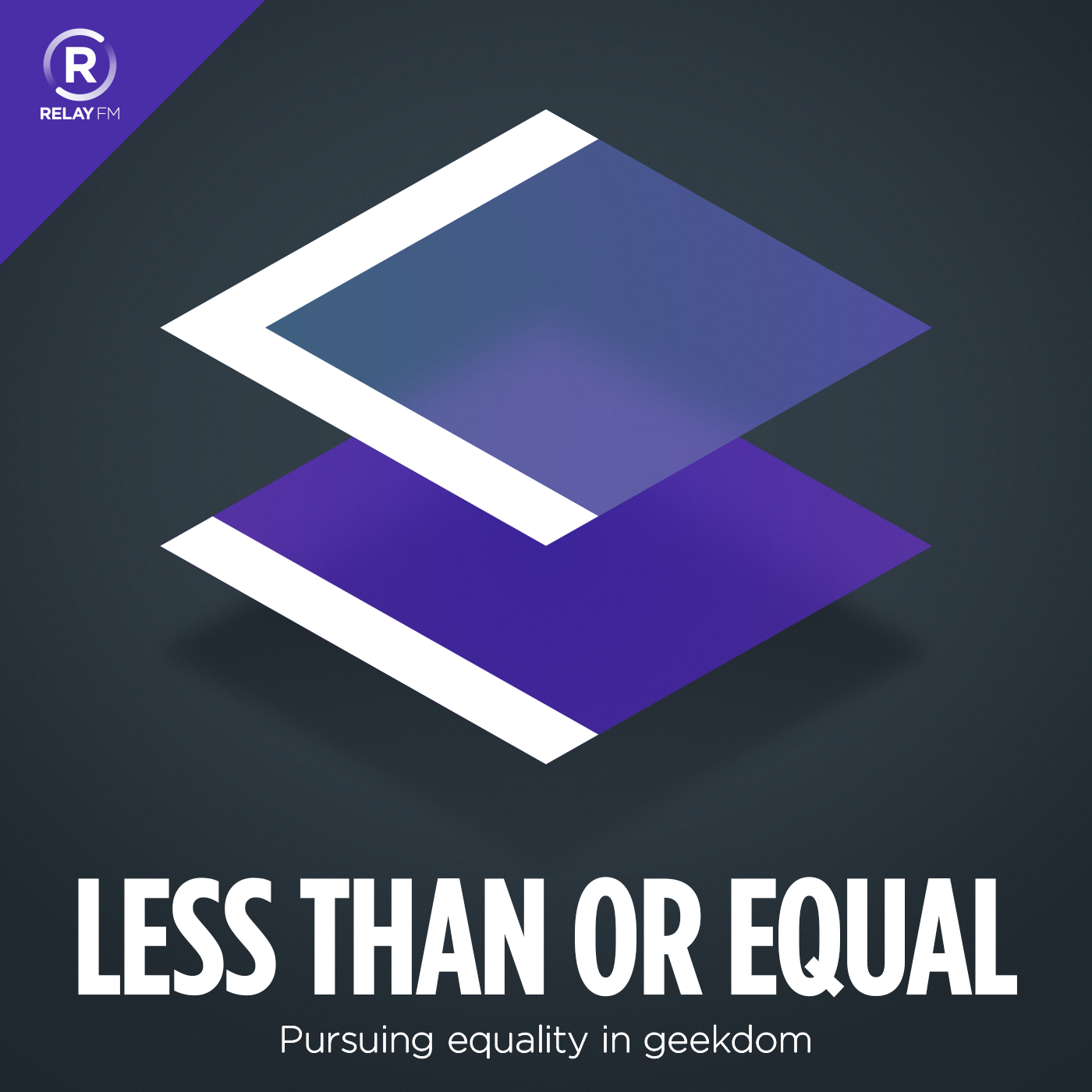 Less Than or Equal is a podcast dedicated to celebrating the accomplishments and contributions of geeks facing inequality in their industries.
July 26th, 2016 · 53 minutes
Aki and Aleen talk about working for President Obama's reelection campaign, being a nomad, and activism.
---
July 13th, 2016 · 63 minutes
Sev tells Aleen about his experience transitioning genders while also transitioning careers and shares how they impacted one another, how he decided against building a tech startup, and the insecurity of indie life.
---
June 28th, 2016 · 46 minutes
Alex and Aleen talk about podcasting, amplifying the voices of women, and self-promotion.
---
June 14th, 2016 · 74 minutes
Lisa joins Aleen again to talk about the Internet of Things and the thought (or lack thereof) behind All the Things, social media overload, Steven Universe, and My Little Pony: Friendship is Magic.
---
May 31st, 2016 · 61 minutes
Sonya and Aleen talk about having colorful hair, being passionate about customer support and the nuances of doing it well, and how awesome our 30s have been!
---
May 18th, 2016 · 56 minutes
Shelly joins Aleen to talk about why she wrote a book about iOS accessibility, diversity, and putting people in boxes.
---
May 3rd, 2016 · 47 minutes
Amelia joins Aleen to talk about the public beta of MyTransHealth, how it started and why it's important, future plans, and juggling passion projects with work.
---
April 20th, 2016 · 42 minutes
Karen and Aleen discuss advocacy and mentorship in tech, leaving corporations for consultancies, and the intersection of parenting and leadership.
---
April 5th, 2016 · 50 minutes
Kronda and Aleen talk about the freelancing life, the importance of community, and focusing on your superpower.
---
March 29th, 2016 · 37 minutes
Jacqui and Aleen talk about delegating, handling growth, reporting on Apple events, how tech has and hasn't embraced diversity, and traveling.
---