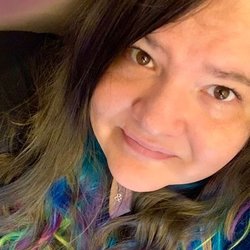 Aleen Simms
From falling asleep to Star Trek at the age of six to starting this podcast, Aleen Simms is a geek through and through. She grew up with her fingers on a keyboard and her nose in a book and is now a wordsmith in the tech industry.
A fervent Hufflepuff, she believes that people are important and deserve to be treated with fairness, compassion, and respect. She lives in the desert with her husband and her two cats, who you may hear in the background from time to time.
---
Shows
The most common question creative people get asked is, "Where do you get your ideas?" That's what Originality is all about: exploring the wheres, hows, and whys of creative genius with K Tempest Bradford, Aleen Simms, and a diverse assortment of guests from a variety of fields.
Retired Shows
Less Than or Equal is a podcast dedicated to celebrating the accomplishments and contributions of geeks facing inequality in their industries.
Guest Appearances