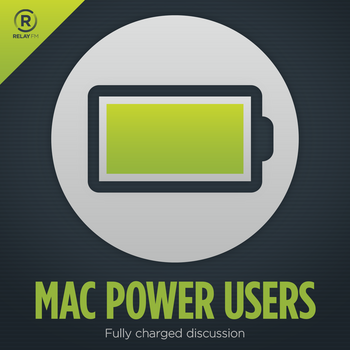 Learn about getting the most from your Apple technology with focused topics and workflow guests. Creating Mac Power Users, one geek at a time since 2009.
This show broadcasts live. Check the schedule.
July 27th, 2015 · 83 minutes
We all face emergencies from natural disasters, personal emergencies, accident or illness and even death. David and Katie share their tips for getting your tech prepared and how technology can help you weather the storm.
---
July 20th, 2015 · 106 minutes
Liana Lehua joins us to talk about how her job as a producer for media events takes her around the world and the travel hacks she's picked up along the way.
---
July 13th, 2015 · 91 minutes
Writer, Director, Actor, and Producer David Wain joins us to talk about how he uses Apple technology to produce films and television including his new Netflix series, Wet Hot American Summer. We also talk about David's challenges with the Photos application.
Thanks to MPU listener Jigar Talati for he…
---
July 9th, 2015 · 98 minutes
We cover a wide range of listener questions this week from backup to travel tips. We also discuss strategies for keeping machines in sync, Mac CRMs, task management, the Photos.app and share tips for home automation, getting around bandwidth limits and more.
---
July 6th, 2015 · 81 minutes
David and Katie take a look at the recently released Apple Music service.
---
June 29th, 2015 · 112 minutes
Katie and David sit down with John Gruber of Daring Fireball to discuss the origins of his site, how he finds and publishes the news and how he uses his Mac and iOS.
Thanks to MPU listener Jigar Talati for help with the shownotes this week!
---
June 22nd, 2015 · 93 minutes
Psychiatrist, musician, geek, and author Kourosh Dini guests to explain why managing tasks is so hard and, with that knowledge, how to use technology to get work done.
Thanks to MPU listener Jigar Talati for help with the shownotes this week!
---
June 15th, 2015 · 96 minutes
David comes to us from WWDC to recap the announcements of the next generation for OS X, iOS, watchOS and Apple's new Music Service as well as discuss community events around the developer conference.
---
June 11th, 2015 · 105 minutes
Jeff Richardson of iPhone JD joins David and Katie to chat about the Apple Watch, we follow-up on Dropbox,Photos.app and photo workflows meal planning, DevonThink, DevonThink, storing items locally without sacrificing drive space and travel tips.
---
June 8th, 2015 · 101 minutes
Jean MacDonald, founder of App Camp For Girls joins Katie and David to talk about her experiences creating a nonprofit. Jean discusses the genesis of App Camp, generating community support, the logistics of running, funding and marketing.
---